With the NBA season tipping off tomorrow night, it is the time of the year where I make league wide predictions for everyone to clown once they inevitably go terribly wrong.
In this session I analyze the Western Conference top to bottom, picking up from where each team left off, predicting seeding, and storylines to follow throughout the course of the 82 game season.
Utah Jazz
2020-21 season: 52-20 (first in West), third in offense, fourth in defense
Where we left off:
The season ended prematurely, but Utah's overall campaign was a success. It was the culmination of a two-year process to load up with enough offensive players to complement the superlative defense of center Rudy Gobert. Utah ended up finishing better on offense than defense en route to the league's best regular-season record.
With shooters at all four perimeter spots and Gobert's rim runs sucking in defenses, the Jazz led the NBA in 3-point attempt rate and were fourth in accuracy (38.9 percent).
Gobert won yet another DPOY, and the Jazz were on an all-time high heading into the playoffs. And then they met the Los Angeles Clippers.
The Clippers were able to turn Utah's defensive scheme on its head by pulling Gobert away from the rim. A lot of pundits have misanalyzed what happened here. The issue wasn't Gobert's inability to defend the perimeter; it's that he wasn't in a position to erase his teammates' breakdowns. With Gobert out of the way, the Kawhi Leonard-less Clippers exposed the soft underbelly of the Jazz's perimeter defense again and again and again and again. The second half of Game 6 was the icing on the cake, but from Game 3 onward — the moment when the Clippers went small — the series was an absolute shred-a-thon.
Which leads us to one big question about the Jazz:
Does this formula and roster as currently constructed work in the playoffs?
The regular season will be an unsatisfying, borderline meaningless exercise for the Jazz. They've shown they can rack up regular-season wins; their problem has been what happens after that. The Jazz flung bricks in a 2019 first-round loss to Houston, blew a 3-1 lead in a baffling playoff bubble defeat to Denver in 2020 and then dropped the final four games against the Clippers last season.
Underlying it all: How can a team with Gobert punish small lineups? He is very good at what he does, but small, switching defenses take away a lot of his strengths. He's not a good post-up player, so if he can't dominate smaller players on the offensive glass he doesn't win that matchup. Meanwhile, asking him to defend at the 3-point line takes away Utah's only rim protector.
Mitchell is the only superstar scorer on the roster with Jordan Clarkson being a very distant second. With Mitchell also standing at maybe 6'2″, he is limited at how much he can carry in a seven games series when teams have multiple elite defense wings and guards to throw his way.
Projection
Utah's playoff disappointment is causing people to forget how good this team was in the regular season. Since they've brought back the same core, there won't be any experimenting or culture building necessary. The Jazz should get off to a great start while teams like the Lakers, Clippers, and Nuggets struggle to gel, thus making them the number 1 seed out West.
But predicting any playoff success past round 1 would be foolish. I have them suffering a similar fate as they did a year ago.
Prediction: 59-23, first in Western Conference
Los Angeles Lakers
2020-21 season: 42-30 (seventh in West), 24th in offense, first in defense.
Where we left off:
A team with LeBron James and Anthony Davis finished 24th in offense?
What the hell happened here?
The Lakers actually began their title defense looking like a strong possibility to repeat. The offense was a little wonky from the word go, but the D was as locked in as ever, and the additions of Dennis Schröder and Montrezl Harrell were supposed to add some vitality to the Lakers' regular-season offense.
Narrator voice: They did not. Schröder predictably regressed from his career year in Oklahoma City, while Harrell actually scored at his usual rates and shot 62.2 percent but fell out of the rotation. With James and Davis both missing extended time due to injury (they missed 63 games between them), it exposed just how deficient the rest of the roster was in shot creation and, especially, shooting.
The season was derailed by injuries and that's where we begin the 2021-22 season.
It goes without saying, the Lakers will go as far as James and Davis' health takes them. The last time the two were healthy, they ran through the likes of Damian Lillard, James Harden, Nikola Jokic and Jimmy Butler on the way to hoisting the Larry O'Brien Trophy.
If the two remain healthy, the same will be true this season. But it will be with a while new supporting cast.
The Roster
The Lakers took one big swing and several bunts:
Traded PF Kyle Kuzma, SG Kentavious Caldwell-Pope, C Montrezl Harrell and 22nd pick to Washington for PG Russell Westbrook and three future seconds
Traded C Marc Gasol and a future second to Memphis for rights to C Wang Zhelin
Signed SG Talen Horton-Tucker (three years, $31 million, third-year player option)
Signed PG Kendrick Nunn (two years, $10 million, second-year player option)
Signed SG Malik Monk (one year, minimum)
Signed SG Wayne Ellington (one year, minimum)
Signed SF Trevor Ariza (one year, minimum)
Signed SG Kent Bazemore (one year, minimum)
Signed PG Rajon Rondo (one year, minimum)
Signed C Dwight Howard (one year, minimum)
Signed C DeAndre Jordan (one year, minimum)
Signed PF Carmelo Anthony (one year, minimum)
Signed SG Austin Reaves (two years, minimum, only $100,000 guaranteed)
Signed SG Joel Ayayi to a two-way
Waived SF Alonzo McKinnie
Did not re-sign PG Alex Caruso, SF Wes Matthews, SG Ben McLemoreor C Andre Drummond
The Westbrook trade is probably the most controversial and interesting move, with the Lakers basically deciding to go after the most prominent talent available and worry about fit later.
An equally interesting choice was that the Lakers opted not to pay Caruso and, instead, pay Horton-Tucker. The Lakers, of course, could have just opted to pay both, and this was an indication that their pockets are not limitless; L.A.'s payroll will be about $20 million less than that of Golden State or Brooklyn.
The sneaky value here is Nunn, who may not start games but has a good chance of finishing them. He can shoot (38.1 percent from 3 last year) and has enough shot-creation chops to supplement second units. He'll only be here a year, most likely, but this was good value from the taxpayer exception.
And otherwise, the Lakers went with old guys on minimums. In some cases, this was clearly the best player available, and the Lakers were fortunate to get the guy at that price. Bazemore, in particular, can still help a team. Others seemed more like knee-jerk reflexes for guys who used to be good.
Rondo, Howard, Jordan and Melo are well past their primes but in certain situations can help win playoff series.
One bit of bargain shopping (that I wish they'd done more of) was targeting Monk, an undersized shooter who could thrive in an off-ball role. He might start the season at the end of the bench but mark my word he will be getting heavy playoff minutes as he shows out in practice and builds a connection with James.
One Big Question: Does Westbrook work?
The biggest decision the Lakers made, by far, was to bring in Westbrook on a team that already had James and Davis. On the one hand, it seems like a no-brainer to upgrade the Schröder role to a player who has proven more adept in high-usage roles. Westbrook provides a badly needed jolt of perimeter shot creation to an offense that had become far too LeBron dependent, and after a slow start in Washington last season, he was very effective late in the year.
That will definitely help the Lakers in one respect: raising the floor. Adding a player who can create a near-infinite number of shots at middling efficiency is exactly what this team needs to avoid finishing seventh again. Not only should the Lakers be much more able to weather any absence from James, but also within games they have the ability to have Westbrook command otherwise-anemic bench units and keep them offensively viable.
In terms of winning the ultimate prize, however, the pairing of Westbrook with James and Davis is more questionable. In a postseason environment, the three of them would be sharing the floor more often, and Westbrook doesn't add much to that particular equation. He's a subpar shooter off whom opponents will cheat and dare to fire away; in fact, all three Laker stars are players to whom opponents will happily concede 3-pointers. That makes it harder for each of them. Late in games, when James wants to handle the ball up top and slowly orchestrate, Westbrook's defender will be chilling in the paint to gum things up.
Ultimately, optimizing the Westbrook-James-Davis triumvirate for the regular season should be relatively painless. But the Lakers are built for the playoffs, and that's where this gets more questionable.
Projection
Between the addition of Westbrook and the fact that James and Davis are likely to miss fewer games this season, the Lakers should be able to load-manage their stars through the season and still avoid the indignity of a seventh-place finish and a Play-In game.
The Lakers also addressed some depth and shooting issues, however imperfectly. Yes, they signed too many old guys, but the likes of Nunn, Monk and Bazemore can really help if they aren't pushed out by the veteran riffraff. (One of Frank Vogel's biggest tests, especially in the playoffs, will be his willingness to sit players like Rondo, Anthony and Howard to put his best quintets on the floor.)
By merely having a healthy LeBron and Davis, they Lakers are default favorites to represent the Western Conference in the NBA Finals. Whether they win it is up for debate but anything less than an appearance would be a disastrous failure.
Prediction: 55-27, 2nd seed, Finals bound
Phoenix Suns
2020-21 season: 51-21 (second in West), fifth in offense, ninth in defense 
Where we left off:
It was a dream season for a franchise whose previous decade was mostly a nightmare. Renowned for making all the wrong moves, the Suns for once made all the right ones, starting with the choice of head coach Monty Williams and the trade for Chris Paul. In an era where All-Star-caliber players fetch multiple firsts and pick swaps, Paul cost Phoenix just a single first-round pick.
Throw in the steal pickups of (Cameron Payne), two late lottery picks (Cameron Johnson, Mikal Bridges) and a key free agent (Jae Crowder) combined to explode the Suns' talent base well beyond the Paul-Devin Booker-Deandre Ayton core.
The Suns didn't get the respect of a contender — most pundits picked them to lose in the first round — but they had the résumé of one. Phoenix was elite offensively, good defensively, had multiple shot creators and surrounded them with knockdown shooting.
They made the Finals but came up short to a better team in the Milwaukee Bucks. No shame in losing that series. But it does make you think: was that the best and maybe last chance at a ring for Chris Paul?
The roster remains intact with the biggest move being retaining Chris Paul who could have opted out and fled to L.A to join his brother LeBron James. But he didn't. He committed to the Suns. They also added JaVale McGee for additional height and depth behind Ayton.
Big Question: Do they need to make another move?
The Suns have a very good team right now. They may not have a top-10 superstar, but their four best players are as good as anybody's, and they back that up with enviable depth at positions one through four.
But looking at this glass-half-empty, they had a very cake walk o the NBA Finals last season with key injuries to the Lakers, Nuggets and Clippers. Is it realistic to expect such a friendly runway again? And even if they make it back to the Finals, are they equipped to handle teams like the Bucks or Nets once there? Or do they need one more star-caliber player — preferably at the four — to put them over the top?
It's an important question because the Suns have the assets to make a deal like this if they wanted. It would likely take a commitment to a future in the luxury tax, and it surely would require them to surrender some of their depth and youth. (The idea would be to keep the Paul-Booker-Bridges-Ayton core; everybody else would be on the table.)
The right player also has to come available, of course, which is often half the battle. But thus far, Phoenix has been patient; except for Paul, this is a homegrown roster construction built with draft picks and exception money. Those tactics were good enough to get them into the inner circle of contenders. But it's fair to ask if they need more to go all the way and if the organizational willpower is there to seize the moment if it arrives.
Projection
There is no doubt the Suns will be good. That core alone gets them into the playoffs. The only questions are how high do they seed and can they receive the same good health they did all last season?
The "core four" only missed 10 games between them. Few other teams were so fortunate.
The one thing that could knock them sideways would be an injury to Ayton; Phoenix just has no quality size around if he's out of the mix. Remember, his 25-game suspension to start 2019-20 sent the Suns reeling and kept them out of the playoffs.
Nonetheless, this is a good, solid team from top to bottom, missing only an All-NBA-type superstar at the top of the pyramid. Historically, ensemble casts like this one have had a harder time reaching the promised land, but this is close to a peak version of an ensemble cast team; upgrading the four is the only realistic card left to play.
Prediction: 54-28, third in Western Conference
Denver Nuggets
2020-21 season: 47-25 (third in West), seventh in offense, 12th in defense
Where we left off:
Everything was going according to plan for the Denver Nuggets last season. The Lakers were compromised, the Clippers probably couldn't beat them, and the Jazz definitely couldn't. The pathway for a title was right there for them, until it wasn't.
Nuggets pushed their chips in at midseason by trading two first-round picks to Orlando for Aaron Gordon and seemed poised to finally make their leap to genuine contenders. Alas, that strategy was undermined when Jamal Murray tore his ACL with a month left in the season.
Denver still rode an MVP season from Nikola Jokic and a vastly improved Michael Porter Jr. to the third seed in the West and was able to survive the first round of the playoffs despite multiple other injuries. However, Phoenix outclassed the Nuggets in the second round, with Chris Paul in particular preying on their overmatched makeshift backcourt and an exhausted Jokic.
Big picture-wise, it was a fairly typical Nuggets season, with the defense trailing the offense.
It was mostly a status-quo type offseason, with the luxury tax playing a major role. A de facto exchange of Paul Millsap for Jeff Green was the only notable switch.
So they're running it back with hopes of a healthy Jamal Murray will be the difference maker. Which leads us to the big question.
Can Murray return to full strength by the playoffs?
Jokic can cover the many flaws of the Nuggets but he can only do so much. He was drained by round 2 against the Suns and it became hard to watch. Murray's return (at full strength and mentally) could be the difference maker between a Conference Finals/Finals appearance and a round 1 exist.
Murray is that good and vital to the entirety of the Nuggets present and future plans.
Projection
The Nuggets have been on the cusp of greatness for years now. You just feel like with Jokic-Murray-Porter Jr., that they are going to break through and win the chip one year. And I think it would have been last year had Murray not got hurt.
But I don't think it is this year.
Nuggets might even be perceived as a favorite if they had a full-strength Murray. That player won't be here for a while, unfortunately; even when Murray comes back, the history of ACL injuries suggests he won't be cranking out 50-point playoff games right away.
Instead, we're probably looking at a Denver team that can rely on Jokic and the continued emergence of Porter to lead them to a decent seed in the regular season and looms as a sleeper in the middle of the playoff seeds. Another conference finals run is hardly out of the question.
I still feel like 2022-23 is going to be the peak version of this team, with a full-strength Murray, the other three key performers at or near their peaks and some of the depth and continuity pieces having more time to marinate. But the version that takes the floor this season should still be good enough to do some damage and offer a tantalizing proof of concept for the 2022-23 version.
Prediction: 52-30, fourth in Western Conference
Dallas Mavericks
2020-21 season: 42-30 (fifth in West), ninth in offense, 20th in defense
Where we left off:
The Mavs entered the playoffs with an ordinary resume and lost in the first round, so it's easy to forget how close they might have been to a deep playoff run. Playing against a fully loaded Clippers team with a healthy Kawhi Leonard, they won the first two games on the road and took a big lead early in the third before the Clippers adjusted; even then, the Mavs had a chance to win Game 6 at home and close the series.
That they didn't, owed mostly to two related factors: the lack of shot-creation options around Luka Doncic, and Doncic himself running out of gas toward the end of games.
That makes it back to back years of historic playoff play, but round 1 exists. Sure Luka enjoyed torching Leonard and George, making them look like false prophets on the defensive end and not all NBA defenders, but he wants to win now.
The series established that Dallas can punch above its regular-season weight in the postseason with Doncic and a cohort of shooters. The issue that still needs work is the 82 games before that, where the Mavs would ideally get themselves in a position where they're not playing the Clippers in the first round.
The Mavs struggle defensively and with the ability to play with consistent energy night in and night out. That is a red flag for a young team. But under new leadership with Jason Kidd, maybe that new voice gets them going from day one.
Offseason moves
It was a wild offseason, even with the roster staying fairly stable.
Fired team president Donnie Nelson; hired Nico Harrison
Parted ways with coach Rick Carlisle; hired Jason Kidd
Traded SG Josh Richardson to Boston for C Moses Brown
Re-signed SG Tim Hardaway (four years, $77 million)
Re-signed C Boban Marjanovic (two years, $7 million)
Signed SF Reggie Bullock (three years, $30 million, half-guaranteed third year)
Signed SF Sterling Brown (two years, $6 million)
Signed PG Frank Ntilikina (two years, minimum, non-guaranteed second year)
Signed SF Eugene Omoruyi and PG JaQuori McLaughlin to two-ways
Extended contract of PG Luka Doncic (five-year, $207 million supermax with fifth-year player option)
Did not re-sign SG JJ Redick, SF Tyler Bey or C Nicolo Melli
Dallas fumbled the offseason immensely. This was the year they could've offered a max contract to someone to pair with Luka and Porzinigs. The whiffed on Lowry, Lonzo, and DeMar DeRozan. Instead they landed with Reggie Bullock and maxed out Doncic, ending any chance of a super team forming in Dallas for at least a few years.
One Big Question: Does Luka have enough help?
Last season showed how dangerous the Mavs can be; Mavs-Clippers was arguably the best series of the entire playoffs in terms of the overall caliber of play. Adding another splash of shooting to the offensive mix with the Bullock-Richardson switcheroo and another year of Doncic's development should only add to Dallas' potency.
But we have another year of Porzingis who maybe wants out, maybe wants more of a role, and maybe will dropped 30, but likely drop 14 when you need him most. He is too unpredictable.
Projection
The Mavs have Luka, and that alone virtually assures them a playoff spot; it also assures them of being highly threatening once there. The question is whether they're positioned to do any better than the last two times.
I think they do rise the ranks in wins but not seed.
Prediction: 50-32, fifth in Western Conference
Portland Trail Blazers
2020-21 season: 42-30 (sixth in West), second in offense, 29th in defense 
Where we left off:
The Blazers more or less survived another horrific defensive performance and injuries to CJ McCollum and Jusuf Nurkic by leaning on Damian Lillard's offensive and crunch-time brilliance and a supporting cast that tilted heavily toward skill and shooting. Unfortunately, efforts to remedy the D with newcomers Robert Covington and Derrick Jones Jr. bore little fruit, with Jones' inability to space the floor pushing him out of the rotation by year's end.
The Blazers were once again bounced from the playoffs despite brilliance from Lillard. Portland's defense was scalded in the first round by a Denver squad starting Austin Rivers and Facundo Campazzo in the backcourt. If you can't defend THAT backcourt, throw any championship aspirations out the window.
This should've been the final dagger that ended Lillard's chapter in Portland. But after an offseason of speculation and hesitance from both Lillard and Portland, the Blazers open camp with the same old core that will have them middling the pack.
The big move was the coaching change, but the Blazers' offseason was more notable for its news conferences than its transactions.
Fired head coach Terry Stotts, hired Chauncey Billups
Traded PF Derrick Jones Jr. and top-14-protected 2022 first-round pick for PF Larry Nance Jr.
Signed SG Ben McLemore to one-year, minimum deal
Signed C Cody Zeller to one-year, minimum deal
Signed SF Tony Snell to one-year, minimum deal
Did not re-sign Carmelo Anthony, Enes Kanter,
I like the Billups hiring, and the pick up of Larry Nance Jr., but this feels like the same old Blazers. You still have an undersized, abysmal defensive backcourt. No rim protector, nor any elite wing defenders. Lillard will carry because he is a generational talent, but it won't be enough to elevate the Blazers to true contenders, just out of the play in tournament.
One Big Question: Is this the last year of Dame Time in the North West?
The giant elephant in the room that is Portland's 2021-22 season is whether Lillard tries to push his way out after years in the honorable mention portion of the Western Conference playoff picture. The Blazers won 54 games and made the second round of the playoffs in Lillard's and Stotts' second season; they won 51 games a year later. In the six seasons since, they've had only one 50-win season and won a total of three series. Recently, they've only gone backward: Since the Blazers' heady talk about winning championships following a 2019 conference finals run, they're 77-69 and have won three playoff games.
Lillard is 31 now, and while he's still at his All-NBA peak, he surely hears the clock ticking more loudly in the background. In Portland's favor, he's also signed for three more seasons (at least) after inking an extension. While he can try to push his way out sooner if he wanted, he won't be a free agent until 2024 at the earliest.
Lillard hinted at frustration earlier in the offseason; the word on the street is that he was upset Olshey blamed Stotts when the roster was clearly flawed, and that he was pushing for upgrades. His most recent comments indicate his frustration may have subsided for the moment, but training camp has a way of making the glass seem half full. We won't really know how he feels about sticking this out until he wakes up on a dreary January morning in sixth place.
Projection
Same as it ever was in Portland: Lillard virtually guarantees a top-tier offense by himself, while the lack of secondary stars and impact defenders put a cap on how far he can take them.
Nance is a good defensive player; Zeller and Snell are solid. Nurkic is a year further removed from a leg injury that seemed to cost him some mobility last season. The Blazers also seem likely to switch away from their passive coverages to something more aggressive.
Concerns remain. This might be the worst second unit of perimeter players in the league (Snell, McLemore and Simons), at least among teams that are actually trying to win.
And, of course, Billups is an unknown in his first season on the sideline.
Regardless, this should be a playoff team. Lillard will make sure of that for as long as he's here. It's just not clear how the Blazers can achieve aspirations beyond that.
Prediction: 47-35, sixth in Western Conference
Golden State Warriors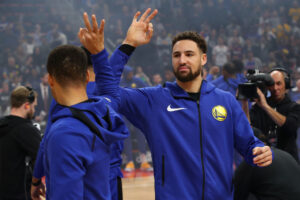 2020-21 season: 39-33 (eighth in West). 20th in offense, fifth in defense
Where we left off:
Let's start with a question rather than a statement: How the heck did a team with Stephen Curry going full-on bananas (32 points per game, 65.5 percent true shooting, first-team All-NBA) finish 20th in offense? The Warriors missed the playoffs because they failed to score, mustering a 102 offensive rating in two narrow Play-In losses despite having Curry playing nearly the entire game.
The answer, obviously, is that the rest of the team wasn't good enough. With Klay Thompson out for the season and second overall pick James Wiseman a crushing disappointment, the Warriors' backup plan for Curry was having Andrew Wiggins do whatever Andrew Wiggins does, while the third option was a Kelly Oubre Jr. missed jumper.
There were a few bright spots. Jordan Poole dramatically recovered from a disastrous rookie year to provide some genuine bench offense, while undrafted find Damion Lee continued to provide value.
And of course, there was the defense, led by Green. The Warriors struggled to rebound and had the league's second-highest foul rate, but aside from the center position, they were long and tough and wouldn't let you get to the rim.
Wiggins found some will to defend as well, improving his overall defensive effort and shot blocking.
The biggest offseason move is getting Thompson back from Achilles surgery, but the Warriors did some other stuff, too:
Drafted SF Jonathan Kuminga (seventh) and SG Moses Moody (14th)
Signed PF Nemanja Bjelica (one year, minimum)
Signed SF Otto Porter Jr. (one year, minimum)
Signed PF Andre Iguodala (one year, minimum)
In a narrow minded look at the offseason I like what the Warriors added. Kuminga and Moody offer two rotational players with different skillsets, both which can help the Warriors immediately. Bjelica, Porter Jr., and even old Iguodala will be vital to the Warriors depth.
But in the wide scope of things, I feel like the Warriors might be waisting away the remainder of Curry's prime by trying to win now and later.
They should have packaged their two drafts picks and Wiggins for an established star in either Simmons or Beal. When you have a top 15 player of all time, you go all in on their prime. I can't envision the Warriors being true contenders this year running out such an inexperienced second unit.
One Big Question: Can you be half pregnant?
Thompson is owed $120 million over the next three years. Wiggins, with two years and $65 million left. Green is making $25 million a year for his dramatic fall off in production. And then there is Curry who will be earring $59 million per season by the end of his deal. The Warriors are locked into their veteran core like no other. But they have youth too.
The idea has always been to use its three recent lottery picks as a bridge to the next era, but that plan may be in some flux. Taking Wiseman over LaMelo Ball has left that plan's outlook in a much less secure place, contingent on how Kuminga and Moody look.
One can argue the Warriors are in the midst of a masterplan and I am just too dumb to realize it. nce Wiseman, Kuminga and Moody get established alongside still-productive veterans like Curry, Thompson and Green, the Warriors can re-emerge in the West. That glass-half-full take will certainly get load-tested this year.
No matter how you slice it, the glorious era that began in 2014 is staring its mortality in the face. This year, especially the second half of it when Thompson returns, likely will determine the viability of the Warriors' strategy going forward.
Projection
The last intact version we saw of the Warriors went to the Finals; alas, that team also had Kevin Durant, a healthy Thompson and a more vibrant Iguodala. Since then, they haven't played a playoff game.
This Warriors team has enough there to be in the mix, but nothing concrete enough for me to see them as true contenders.
One might think having Thompson back pushes the Warriors toward the top of the West again. Cynics might add that having Wiseman out to start the season can only help. Not so fast. First, Thompson may not even be on the floor until the season is half over. And while my projection on Thompson this year is admittedly a dart throw after two lost seasons.
Also, the Warriors' two key players (Curry and Green) are now 33 and 31, respectively.
Curry played at a MVP caliber level last season, but if he's merely an All-Star, that's going to be a minus relative to a year ago — and they needed him to play at peak level just to squeeze out an eighth-place place finish.
Yes, Kuminga and Moody offer promise for the future, but teenage rookies rarely move the needle. Their biggest 2021-22 impact would be as trade chips. Wiseman will begin the year rehabbing a torn meniscus, and even his biggest fans would concede he's much more of a project than first envisioned.
Golden State's depth pieces are better this season, but none of its frontcourt players can score, the shot creation remains limited and two of the three stars who sent this core to five straight Finals are losing their war against Father Time. A healthy Curry playing at an MVP level might get this team to a mid-tier playoff seed; anything short of that, and it's back to the Play-In Tournament.
Out of respect to Curry;
Prediction: 44-36, Seventh in the Western Conference 
Memphis Grizzlies
2020-21 season: 38-34 (ninth in West), 15th in offense, sixth in defense
Where we left off:
In the playoffs, somewhat surprisingly. Yeah the Grizz ruined everybody's bracket when the beat out the Warriors for the final playoff spot via the play in tournament, but we shouldn't have been too shocked.
They finished with the league's sixth-best defense and were a one man show on offense with Ja Morant.
Making this more impressive, the Grizzlies did this basically without the services of Jaren Jackson Jr., who was presumed to be one of the two key pieces of the rebuild along with Morant. Jackson only played 11 games at the end of the season and was rusty when he came back.
Offseason moves
The Grizzlies aren't in any hurry. Most of these moves were more about the future than 2021-22:
Traded C Jonas Valančiūnas, 17th pick and 51st pick to New Orleans for PG Eric Bledsoe, C Steven Adams, 10th pick, 40th pick and a future first-round pick.
The rest of the moves were not much to take note of
Despite making the playoffs last season, the trade of Valančiūnas indicates that the Grizzlies are in no rush to further this process along. They are taking the "long grind" stance.
One Big Question: Who is apart of the core and who is expendable?
he next phase for the Grizzlies is to make some hard decisions about what the peak version of this team should look like. Morant won't be going anywhere, but after him, their depth forces them into some hard decisions. It's a good problem, the kind you're hoping to have in a rebuild, but it's there nonetheless.
The first one on the list is Jackson. Whether it happens now or next summer, they likely need to cough up a big-money, multi-year deal or face losing him in restricted free agency. He's a major talent but hasn't quite emerged as a star on Morant's level and has battled multiple injuries, so it's not like it's a no-brainer to hand him the bag. And he's not the only tough call.
You can see some of those hard choices in the moves Memphis already made: The Grizzlies punted on re-signing Valančiūnas in the summer of 2022 and moved on from Allen while he was still on his rookie deal. Reports had them canvassing the league for the trade value of several other players, which makes sense: Trade value could be a critical difference when choosing among multiple similar players.
The Grizzlies only have one player making more than $12.2 million this season, and that's Adams. But look at the calendar: Jackson, Anderson and Jones will be free agents in 2022; Brooks, Adams and Morant in 2023; and Bane, Melton and Tillman in 2024. It's inconceivable that they can pay everyone. How they deal their way through this stretch will determine if they can keep climbing as this rebuild continues.
Projection
Memphis may again be the league's deepest team, but the advantage of that should lessen. They won't have a compressed schedule and constant COVID-19 absences to magnify its depth advantage this season, while some strategic decisions may have slightly lessened their bench strength.
The Grizzlies' youth should help bolster them, and of course, Morant, Bane, Tillman, Melton and should all be better this season. Jackson will be a plus after hardly playing a year ago and should particularly impact the starting group's lack of shooting. Offsetting that are some of the strategic subtractions, most notably with Valančiūnas gone, along with some lingering skepticism that this is a top-six defense.
Where does it all lead? Probably right back to the middle again. Memphis doesn't have the star power of its rivals for the last few playoff spots, especially if Morant can't shoot more consistently. What it does have, however, is enviable depth to survive the grind of the 82-game season.  Most likely, that should let them win half their games again, and perhaps face-off with Golden State in the Play-In Tournament once more.
Prediction: 41-41, eighth in Western Conference
LA Clippers
2020-21 season: 47-25 (fourth in West), fourth in offense, eighth in defense
Where we left off:
In most respects, this would be considered a hugely successful season, even though the Clippers entered the year talking championship and only finished fourth in the West. That placement was partly because Kawhi Leonard and Paul George missed 38 games between them, and partly because of a comical regular-season coda that saw them intentionally lose to bottom-feeders Houston and Oklahoma City to avoid the Lakers' half of the bracket.
LA's two tentpole stars were as good as ever, and the Clippers got a ton of mileage out of scrap-heap pickups such as Nic Batum and Reggie Jackson, offsetting the fact that the team has no true third option.
Overall, LA's front office continued to win at the margins. Hiring Tyronn Lue was clearly the right choice, a late second-rounder (Terance Mann) bore major fruit in the playoffs and the veteran reclamation projects noted above paid massives dividends.
The playoffs, the longtime time thorn in the Clippers side, reared its ugly head once again. Dallas carved up the Clippers for a second straight playoff series, but the Clippers withstood the phenom.
They then surprised the world debating the number one seeded Jazz without Leonard, making the franchise's first-ever conference finals appearance. Eventually, they ran out of gas in the conference finals, but Lue's tactical flexibility unquestionably helped the Clips overachieve in the postseason — a radical departure from previous disappointments that have haunted this team.
By far the biggest development is that Leonard is likely to miss most or all of the season with the torn ACL he suffered in the playoffs. Beyond that, the Clips mostly brought back last year's crew.
One Big Question: Can they stay afloat until Leonard maybe returns for the playoffs?
With Leonard out, Ibaka still healing and the tax bill limiting the roster to 14 full contracts, the Clippers are looking at only having 14 active players this year — including the two-ways. Yet four of them are developmental players — three rookies, none of whom were high picks, and a 20-year-old two-way in Scrubb.
The overall amount of talent on this team looks bleak minus Leonard. Paul George will have to carry like never before and I can't say I am that confident in his play as the lone star.
Projection
The Clippers made the conference finals last year, are one of the league's best-run teams and even without Leonard have a clear A-list star in George to build the attack around.
But this isn't the playoffs; they can't play six players 40-plus minutes a night and have George take on this heavy a load all season. And for any game he misses, the obvious question arises: Who is this team's second-best player? Morris? Jackson? Does it have one?
Meanwhile, virtually every player on the roster is ramping up their minutes and usage. Jackson will have the ball in his hands a lot. Mann was a great find but may now need to start and check elite wings every night. Zubac is the only center, at least until we see Ibaka back on the court. Kennard and Winslow were on the fringes for their teams a year ago; this year, they're core rotation guys.
Even if Leonard doesn't play all year — which seems to be the best guess — the Clippers will be in the Play-In Tournament if it's important to them (see above). Should Leonard come back at some point before the end of the season, that obviously radically changes things — not so much for the regular-season win total, but for the Clippers' viability as a postseason threat.
Without him, however, they're relying on George and small ball again, and with very limited depth to get them to the finish line. Maybe that gets them through the Play-In Tournament and into the main bracket, but I doubt it does anything more.
Prediction: 40-42, 9th in Western Conference
Minnesota Timberwolves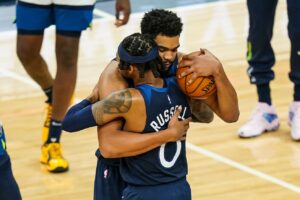 2020-21 season: 23-49 (13th in West), 25th in offense, 28th in defense
Where we left off:
The Minnesota Timberwolves have been struggling since forever? But the past few years have been extra tough to navigate. Their head coach died a few seasons ago. Covid swept through the Towns family, taking at least 7 members with it. The play on the court was abysmal.
But this year, a year removed from tragedy, and a year under Anthony Edwards belt, there Wolves might be on the up.
Offseason moves
With the lottery pick gone, Minnesota was mostly left with luxury-tax management in a relatively quiet offseason.
Traded PG Ricky Rubio for PF Taurean Prince and a future second
Traded SF Jarrett Culver and PF Juancho Hernangomez to Memphis for PG Patrick Beverley
Signed SG Leandro Bolmaro (2019 first-round pick)
Fired team president Gersson Rosas
(Sound of record scratching ) … um, run that last one by me again? Yes, the Wolves let their lead decision-maker go a week before training camp, the latest in a series of management failures for this franchise. Vice president of basketball operations Sachin Gupta is now in charge, at least for the moment.
As for the rest of the offseason, the first two trades were unfortunate consequences of previous mistakes. The Rubio deal was necessary to keep the Wolves below the luxury-tax line, but it sent out one of their better players for a more marginal one in Prince. Similarly, Culver was the sixth pick in the 2019 NBA Draft but could barely get on the court, sporting an 8.8 career PER in his two seasons with the Wolves. Cutting bait on him at least brought in a feisty defender to replace Rubio in Beverley.
One Big Question: Can they figure things out before Towns asks for a trade like Garnett and Love did?
Towns is the centerpiece of the franchise; he's also signed for three more years and, despite the hopes of 29 other franchises, has betrayed no inclination that he wants to leave. But another losing season and the tides could change swiftly.
All hope isn't lost though because the Wolves have their 1-2 and 2 1/2 punch in Towns-Edwards-DLO. There are pieces here to build upon, its the ancillary pieces that the Wolves can never get right.
The Wolves have never found a PF to play along side Towns and it has shown. They need a floor spacer who can also defend in order to compliment their star Center. Jaden McDaniels and Jarred Vanderbilt will be given the year to figure out who takes the reign of that starting role. But neither are full on candidates as they both lack major parts to their game.
The Wolves are on the clock.
Projection
The Wolves look like they'll have a halfway decent team and could even push into the postseason. The team played much better in the second half last season with Towns in the lineup and Finch on the sideline. Edwards made dramatic progress in his shot selection and overall offensive impact, and he has a lot of room to keep growing. Towns, after a rough last 18 months, seems set to reclaim his mantle as a top-tier center.
Not that there won't be a few hurdles along the way, especially at the defensive end. Between Russell and Edwards, Finch needs to find at least 0.5 guards who try on defense. Any injury to Towns would immediately leave a gaping hole in the middle, as we saw last season. And, as noted above, Minnesota needs to find two forwards who can contribute.
But for all Towns has been through, I want to see him succeed and it might be blinding my view a bit but I don't care. The Wolves snag the final play in spot
Prediction: 39-43, 10th in the Western Conference
Sacramento Kings
2020-21 season: 31-41 (12th in West), 11th in offense, 30th in defense
Where we left off:
We left off where the past two decades have left off, the Kings outside of the playoffs by a mile.
Occasional flashes of offensive brilliance — particularly from guard De'Aaron Fox — offset by some truly awful defending, the Kings exude immense "rebuilding team" energy. The problem is they shouldn't STILL be rebuilding.
Fox has been a sensational player since day one. They got their building block in 2017. We are entering the 2021-22 season and he remains the only foundation piece of value. Tyrese Haliburton may be on his way too that but superstar? That is a ceiling probably too high to assume right now.
Marvin Bagley was supposed to be that for the Kings but you know politics and chemistry go along way in that. Forgive me for a lack of a metaphor but right now he is a Republican swimming in Democrat infested waters. He's going to escape immediately or be ripped to pieces by February, eliminating any value he still has.
But the Kings struggles go even beyond lack of talent.
They hired Luke Walton as their head coach the second he was fired by the Lakers. He was supposed to help this young core rise to new heights. Instead he was a false prophet. They thought they were getting Kenny Atkinson and they got confused Luke Walton.
Offseason moves
Despite kicking the tires on some bigger deals —  most notably, a Hield trade with the Lakers — the Kings' offseason ended up being relatively uneventful and driven mostly by their draft pick.
Drafted PG Davion Mitchell (ninth overall) and C Neemias Queta (39th)
Traded PG Delon Wright for C Tristan Thompson in three-way deal with Boston and Atlanta
Re-signed C Richaun Holmes (four years, $47 million, fourth-year player option)
Nothing of note but they added some good pieces that should help improve the win total.
One Big Question: Can the Kings FINALLY break the playoff drought?
Sacramento's 15-year playoff drought seemingly hangs over everything else this organization does. A good example is the reluctance to take even half a step backwards in order to possibly build something more lasting — say, a five-year arc of deep playoff runs — rather than the immediate compulsion to end the drought.
Harrison Barnes' situation last year offers a good example. In the midst of a career year and signed for two more seasons, he presented a tremendous "sell-high" case to the front office, one that might have yielded the type of draft equity to propel the team further during the prime Fox-Haliburton years mid-decade. It's not clear if that opportunity was ever seriously pursued.
With the advent of the Play-In Tournament, however, the temptation will only grow stronger. Can they hold of the temptation? I'm not sure.
One of the biggest tests for the Kings' management will be resisting the urge for the quick fix and thinking more broadly about building a core that can make some noise once they get the right coach and eliminate all the roster duplication.
Projection
I have the Kings coming agonizingly close to almost making the tournament that almost qualifies you for the playoffs. However, with a narrow margin separating eight from 13th in the West in my projections, the order of those places could easily come down to dumb luck.
The Kings are muddling along with a coach they don't want and a weird roster, and aside from drafting Mitchell, they've done little to address the defensive awfulness of a year ago.
Yet this won't be a Kangzy horror show … or at least it shouldn't be. With an All-Star-caliber point guard, a potential second-year pop from Haliburton and the hope of realigning the roster at some point to have more than one real forward, Sacramento can talk itself into some positive outcomes. If the Kings can just reach some kind of respectable level on defense, there is enough shooting and playmaking here to win half their games.
iguring out how to get all their good guards into the mix and what, if anything, can be done with Bagley would go a long way toward maximizing their odds. More than likely, they won't have all the answers this year.
Prediction: 37-45 record, 11th in the Western Conference
San Antonio Spurs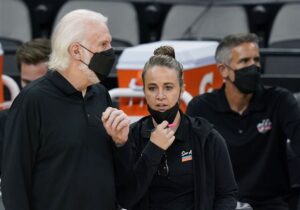 2020-21 season: 33-39 (10th in West)., 21th in offense, 17th in defense
Where we left off:
Trying to navigate between developing young players for the future and staying relevant in the present, the Spurs' strategy only sort of worked. Theoretically built around DeMar DeRozan and LaMarcus Aldridge, the Spurs reaped one of DeRozan's best seasons but ended up buying out Aldridge's contract halfway through (after bizarrely guaranteeing it a year earlier).
Any team coached by Gregg Popovich is going to be respectable, even if the wins don't come. While the Spurs have been floundering in no mans land really since Manu Ginobili retired, they haven't bottomed out yet…
San Antonio managed to sneak into the Play-In Tournament anyway, and for that, the Spurs can thank the continued development of their next generation. Jakob Poeltl took over the starting center spot and immediately provided superior rim protection; Johnson (stolen with the 29th pick in 2020) injected some energy into the starting lineup; and White and Murray formed one of the league's best defensive backcourts.
Offseason moves
Finally, the Spurs ripped off the Band-Aid and went full bore into a rebuild.
Drafted SG Josh Primo (12th) and SF Joe Wieskamp (41st)
Signed-and-traded SF DeMar DeRozan to Chicago for C Thaddeus Young, PF Al-Farouq Aminu, a future first and a future second
Signed SG Bryn Forbes (one year, $4.5 million)
Signed SF Doug McDermott (three years, $42 million)
Signed PF Zach Collins (three years, $22 million, 50 percent guaranteed)
The trade of DeRozan — and, to a lesser extent, the departure of Gay and Mills — is a turning of the page for the franchise toward a full-on rebuild around the team's recent draft picks. The Spurs were fortunate to come out of this with as much as draft capital as they did, netting a first and a second for a player in DeRozan who might have left for free.
The one key departure from the youth movement is that the Spurs seem intent on actually shooting 3s this year. McDermott was an overpay, but he won't hurt their cap position.
The Spurs' draft raised some eyebrows when they selected Primo — a player many had pegged as an early second-rounder after a nondescript freshman season at Alabama — with the 12th pick. The youngest player in the draft (he won't turn 19 until the day before Christmas), Primo likely will spend much of the year hidden away in the Spurs' player development factory.
One Big Question: How long until Coach Pop hands the clip board to Becky Hammon for good?
After 22 consecutive years in the playoffs and five championships, San Antonio suddenly finds itself in an unfamiliar place. The Spurs had never, in their entire ABA and NBA history, missed the playoffs in consecutive seasons until this past season, and the streak seems likely to hit three this year.
It's not that they're bad, exactly, but they're not particularly good — and in the NBA's structure, that sometimes can be the worst place to be.
The Spurs have some young talent, do a good job in player development and haven't made any notable destructive personnel mistakes. Nonetheless, they may be stuck on the treadmill of mediocrity that comes with having the 10th-worst record every year: Not bad enough to get a franchise-changing draft pick, but not good enough to contend for anything important.
This leaves Popovich in the twilight of his career. His legacy is set in stone. So does he still get pleasure from going through the grind, but this time just to develop players, knowing the wins aren't on the horizon? Or is he going to take the blows in the down years, build a new core and had the keys to a Ferrari over to Becky Hammon instead of a broken down Camry?
Popovich is an honorable man so neither option laid out is out of the question.
Projection
Again, the Spurs won't be bad, and the commitment to youth means some entertainment watching them grow. Johnson should build on his energetic play at just 22. Vassell seems capable of stepping forward as a 3-and-D guy with maybe some additional shot-creation juice. Their brigade of 20-somethings such as Murray, Poeltl and Walker are still young enough to improve further.
The Spurs are simultaneously too good to tank and not good enough to contend for anything important. A return to the Play-In Tournament seems possible, but despite several fun young players, the lack of star talent limits this team's upside.
Prediction: 35-47, 12th in the Western Conference
New Orleans Pelicans
2020-21 season: 31-41 (11th in West), 12th in offense, 22nd in defense
Where we left off:
A season that began with high hopes ended forgettably, as New Orleans' inability to shoot or defend consigned to another trip to the lottery despite an All-Star season from second-year forward Zion Williamson.
Looking ahead, with questionable offseason decisions, I fear the Pelicans won find success this season either.
Offseason moves
Well, they kept things interesting…
Fired head coach Stan Van Gundy; hired Willie Green.
Traded C Steven Adams, SG Eric Bledsoe, a future first and the 10th and 40th picks to Memphis for the 17th and 53rd picks and C Jonas Jonas Valančiūnas
Did don't resign Lonzo Ball (Yikes)
The offseason began with the idea of generating cap space to pursue Kyle Lowry, but apparently, they didn't check in with Lowry on this. The Pels made the Memphis trade to clear that space, surrendering a future first-round pick and moving down in the 2021 draft; they also incidentally upgraded their center position, at least for 2021-22, although Valančiūnas' impending free agency looms as a problem.
I'm not sure what the effectuation was with Lowry when you had Lonzo Ball in your hands. They got greedy and ended up with neither.
One Big Question: Can Zion be healthy for 70 games?
I firmly believe that a duo of Ingram and Zion gets any team into the playoffs. But I feel equally as strong in saying that Zion will not play 70+ games this season to make that happen.
This leaves Ingram to his own devices and very little help. The team is flawed as it is with Zion on the court. You remove him and the team becomes arguably the worst in the league.
Projection
This could be a long long season for the Pels.
They can't defend anybody and struggle to shoot it from outside the arc. Zion's injuries plus the new system will create plenty of feeling out situations early on. In a stacked Western Conference you don't have the luxury of figuring things out on the fly.
I got love for Ingram but this anti going to be the year he racks up wins.
Prediction: 33-49, 13th in the Western Conference
Houston Rockets
2020-21 season: 17-55 (15th in West), 27th in offense, 27th in defense
Where we left off:
Silased (v.): The experience of being hired to coach a good team with a transcendent superstar, only to almost immediately end up coaching one of the worst teams in the league instead.
Yep, Stephen Silas got kind of a raw deal with his first coaching job. He thought he was coaching James Harden and Russell Westbrook. He ended up with Kevin Porter Jr.?
Then once Harden was traded, they passed on Jarrett Allen in favor of a hobbled Victor Oladipo who was a pending free agent?
Poor Silas.
Houston walked away from the season in a full-on rebuild.
Offseason moves
Drafted SG Jalen Green (second), PF Usman Garuba (23rd) and SG Josh Christopher (24th)
Traded two future first-round picks to Oklahoma City for 16th pick; drafted C Alperen Şengün
I said it on draft night and I'll say it again: the Houston Rockets won draft night. All 4 of the players drafted could and should be rotation pieces for them this season. Green should explode with his usage rate through the roof considering the lack of an established star on the team.
One Big Question: Is this the core to move forward with?
The thing about trading a player of Harden's stature is that it's often relatively easy to recover because of all the assets yielded. Houston already has its disposal three young players who like look like long-term starters (Green, Wood and Şengün), a talented wild card in Porter and a couple of nice young finds (Martin, Tate) and later first-round picks (Garuba, Chirstopher) who could potentially fill in the rotation. That's before we get into the fact that the Rockets will have max cap room in 2023, likely high lottery picks in the next two drafts and an additional first-round pick from another team in the next three.
So there is a canvas situated in Houston, but are these the paint cans that will fill it?
Green is talented but raw, drawing comparisons to a young Zach LaVine. Few doubt he'll be able to score, but can he impact the game at other levels enough to become a franchise centerpiece? Şengün was awesome in Europe, but defensive questions hurt his draft stock; Wood will be an unrestricted free agent in 2023. As for Porter, he's a streaky on-court performer whose off-court issues didn't magically go away when Houston traded for him.
Projection
The Rockets will be bad, but entertainingly so. While the Wall decision shows the tank is on, Houston has enough young talent to make things interesting, if not downright fun, on the right night. Green will deliver some electrifying dunks, the four rookies will keep hope alive for brighter days ahead, and the assortment of halfway-decent pros dotting the roster will prevent Thunder-level god awfulness from taking root.
Contending for anything important will have to wait for another day, but this year's version of the Rockets should offer a clear roadmap to competence. Achievements beyond that will likely have to wait for the next lottery drawing.
Prediction: 26-56, 14th in Western Conference
Oklahoma City Thunder
2020-21 season: 22-50 (14th in West), 30th in offense, 26th in defense
Where we left off:
How does 1-23 in their final 24 games of last season sound? Like perfectly executing the tanking process if you ask me.
Offseason moves
It was more of the same, as the Thunder focused mostly on increasing their enviable hoard of future draft picks and less on whatever the current roster looks like.
Traded C Al Horford, C Moses Brown and a future second-rounder to Boston for PG Kemba Walker, a future second-round pick and the 16th pick
Traded 16th pick to Houston for two future first-round picks
Traded 36th and 34th picks to New York for 32nd
Drafted Josh Giddey (sixth), Tre Mann (18th), Jeremiah Robinson-Earl(32nd) and Aaron Wiggins (55th)
One unfortunate development was the Thunder coming away from the draft lottery with just the sixth and 18th picks; there were scenarios where they could have picked first and fifth. As a result, Oklahoma City was left with just one top-tier prospect in Giddey.
The Thunder also traded out of a chance to take Turkish big man Alperen Şengün at 16 to get two protected future firsts, and I think they may regret that. Şengün can play, and the two picks, heavily protected ones from Detroit and Washington, may not convey for years — or become firsts at all.
One Big Question: When does the process turn into wins?
The Thunder are going to be awful this year, and as they keep recycling useful players into future draft picks, it's fair to start asking how much longer this awfulness will extend. Running a de facto sequel to The Process, Oklahoma City still doesn't have its Embiid to trigger a franchise U-turn; landing sixth in the lottery was a tough pill to swallow in that respect.
One suspects the team might have 2023 circled as a time to make a charge in the standings, when the team will have ample cap room, nine recent first-round picks on the roster and will likely be more than sick of getting their brains beat in.
When you have that many 1st round picks, you have to run into a gem or two by mistake if nothing else. Throw in the fact that this franchise has been money on drafting stars and MVP's (Durant, Westbrook, Harden) I like the chances of the Thunder returning to prominence by 2024.
Projection
Because the Thunder were somewhat competitive for the first half of last season, I think people might be sleeping on how bad this team could be in 2021-22. Only four players project to be above replacement level, although the rookie Giddey would presumably make it five, and one of them (Favors) may not be around for long. Gilgeous-Alexander provides some kind of floor, but he would have to be a top-20 player in the league to get this team to 25 wins.
The Thunder were 30th in offensive efficiency last year and almost certainly will be again, as there is no shooting whatsoever (seriously, look at this roster) and limited shot creation beyond Gilgeous-Alexander. Dort, Gilgeous-Alexander, Williams and Favors can ensure a higher standard at the defensive end, but everyone else is either a certified bad defender, below legal drinking age or both.
In the worst-case scenario, any extended absence by Gilgeous-Alexander immediately creates the potential for the Thunder to be one of the worst teams in history. Of course, what's "bad" is actually "good" in some ways given this team's incentives, but the Thunder need to see some light at the end of the tunnel.
Prediction: 13-69, 15th in the Western Conference