Who is the greatest small forward of all time?
Like at the shooting guard position, there is not much suspense surrounding the answer to that question. Lebron James has secured that title about a decade ago. But there's still tons of intrigue over spots 2 through 10.
A combination of both past and present small forwards will make up the final 9 spots, making it hard to decipher who should be placed where. But let's get into it.
10: Paul Pierce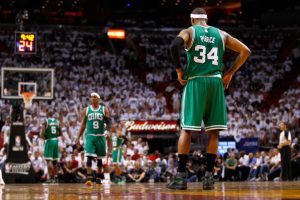 There are a number of jumping off points to start with about Paul Pierce, but this one story from March 13th, 2001 is fitting. On that date, Paul Pierce dropped 42 points against his hometown Los Angeles Lakers. This sparked an endorsement from reigning MVP Shaquille O'Neal.
"My name is Shaquille O'Neal and Paul Pierce is the motherf–king truth. Quote me on that and don't take nothing out."
From that day on, Pierce would go by "The Truth."
Over the course of his career, Pierce was one of the best and consistent scorers in the league.
For his career, Pierce racked up 26,397 points, 6,918 free throws and 2,143 threes. Today, he ranks 15th, 9th and 8th, respectively, in those three categories.
The peak of his career was being the leading scorer of the 2007-08 Boston Celtics team that won the championship.
Career Averages: 19.7 points, 5.6 rebounds, 3.5 assists, 1.6 threes, 1.3 steals
Best Season: (2006-07) 26.8 pointes, 6.7 rebounds, 4.7 assists
Accolades:
MVP's: 0
Championships: 1x
Finals MVP: 1x
All-Star Selections: 10x
All NBA Selections: 5x
9: Carmelo Anthony
Depending on if you are a Carmelo Anthony fan, or not will determine if you are happy with his placement on this list. But either side you fall on, this is an accurate spot for the future Hall of Famer to land.
Does Melo have flaws? Yes, but don't we all?
One thing was for sure, there was never any questioning his offensive ability. Melo is one of the best isolation scorers the league has ever seen. His ability to dominate the mid range game out of the triple threat position is amongst the very best to ever do it.
During the later half of his career, the game moved away from his strengths, putting him in a much faster decline than expected.
But when we talk peak, and sustained success, Melo is more than deserving to be in the top 10.
When you take a look at his 10 year peak (2005-06 to 2014-15) Melo was an elite player. His 10 year peak averages are 26.2 points on 46% shooting, 6.7 rebounds, 3.2 assists, 1.1 steals.
The single standout season everyone looks to is his 2012-13 campaign where he led the league in scoring with 28.7 points per game. Melo would finish third in MVP voting.
Despite the narrative, Melo was more than a scorer. He's also been a very good rebounder for his position. And while nobody will ever accuse Melo of being a lockdown defender, he was capable of defending when needed in short spurts and key moments.
It may be unfair but the lack of team success holds Melo from being higher on the list.
Career Averages: 23.6 points, 6.5 rebounds, 2.9 assists
Best Season: 28.7 points, 6.9 rebounds, 2.6 assists
Accolades:
MVP: 0
Championships: 0
All Star Selections: 10x
All NBA Team: 7x
Scoring Champion: 1x
8: Adrian Dantley
The combination of strength, fundamentals and craftiness made Adrian Dantley one of the best scorers we've ever seen, regardless of era. Evermore incredible, Dantley is one of the most efficient scorers in league has ever seen.
Dantley posted four seasons in which he averaged at least 30 points per game with a 60-plus true shooting percentage. Only 16 such seasons exist.
What makes his prolific scoring stats evermore impressive is the fact that he only made 7 three point shots in his entire career. There are multiple guys who have done that in a single game.
Career Averages: 24.3 points, 5.7 rebounds, 3.0 assists, 1.0 steals.
Best Season: 30.7 points, 6.4 rebounds, 4.0 assists, 1.4 steals.
Accolades:
MVP: 0
Champion: 0
All-Star Selections: 6x
All NBA: 3x
Rookie of the year
7: Kawhi Leonard
With his career far from over, and in his prime, Leonard has the chance to shoot to the top half of this list. But the production of his first 9 season is more than enough to comfortably make the list.
Kawhi is already one of the most accomplished postseason performers in NBA history. His two finals appearances, and one ring in San Antonio were impressive but they were not his teams. That narrative would change after his 2019 playoff run which he capped off with a championship.
In those historic 24 playoff games, Kawhi averaged 30.5 points, 9.1 rebounds, 3.9 assists, 2.3 threes and 1.7 steals per game. He was named Finals MVP as he dropped 28.5 points over the 6 game series. He joined Kareem and LeBron as the only players in NBA history to win that award with more than one team.
Beyond his playoff resume, Kawhi has quite the regular season portfolio. Kawhi has won two Defensive Player of the Year awards, been selected to five All-Defensive teams, and three All-NBA teams.
Leonard has won 352 games and lost just 115, which is good for a winning percentage of 75.4, the all time best.
Career Averages: 17.7 points, 6.3 rebounds, 2.4 assists, 1.8 steals
Best Season: (2019-2020) 26.9 points, 7.3 rebounds, 5.0 assists, 1.8 steals
Accolades:
MVP: 0
Championships: 2x
Finals MVP: 2x
DPOY: 2x
All Star Selections: 4x, 2020 All-Star Game MVP(Kobe Bryant Award)
All NBA Teams: 9x
6: Elgin Baylor
Elgin Baylor is the greatest player nobody ever talks about. For the first 7 seasons go his career, Baylor averaged 30.2 points and 15.4 rebounds. In 1961-62, he averaged an insane 38.3 points and 18.6 rebounds.
But Baylor was more important to the evolution of the game, than any of single stats were. He expanded the sport from a ground based game to one that featured jumping and hang time. Baylor took to the air for jumpers, rebounds and the very occasional dunk.
In an excerpt from the book "Elgin Baylor: The Man Who Changed Basketball," author Bijan C. Baynes explained Baylor's impact on the sport.
"The things that we accept as routine today, like changing direction… A spin move, double-pumping, any improvisation off the dribble, hesitation dribbles, all of that comes out of Elgin."
Career Averages: 27.4 points, 13.5 rebounds, 4.3 assists
Best Season: 38.3 points and 18.6 rebounds.
Accolades:
MVP's: 0
Championships: 0 but 1, kind of (look into it)
All Star Selections: 11x
All NBA Teams: 10x
Career High in Points: 71
5: Julius Erving
It is fitting that Erving is following Baylor on this list. Baylor's final season was Erving's first as a pro in 1971-72. In a sit-down interview with The Undefeated, Erving explained how Baylor impacted his play style.
"I remember [Baylor] was the first guy I saw grab the rebound, bring it in transition and then playmake from the top of the key. He was a playmaker, he was great one-on-one, he was great using airspace … he was just ballet in basketball. And that opened a lot of doors for young players, myself in particular, to try that stuff. Suddenly it was like, 'Wow. This can actually work."- Dr. J on Elgin Baylor
Erving definitely did just that throughout both his ABA and NBA career. Over his first five seasons as a pro, Erving dominated the ABA, averaging 28.7 points, 12.1 rebounds, 4.8 assists, 2.4 steals and 2.0 blocks.
His numbers would take a slight hit as he joined the NBA after the merger, but he was still dominant enough to end up on this list.
In 11 NBA seasons, Erving made 11 All-Star teams and seven All-NBA teams. He won the league MVP in 1980-81 and led the Philadelphia 76ers to the title in 1982-83.
Much like his predecessor, Erving's impact on the evolution of the sport is what his legacy is all about.
Erving further expanded the aesthetics of basketball. He played with a flair never before seen and used his athleticism in ways no one had before.
Career Averages: 22.0 points, 6.7 rebounds, 3.9 assists, 1.8 steals, 1.5 blocks
Accolades:
MVP: 4x, 1x in the NBA
Championships: 1x NBA Champion
All Star Selections: 16x, 11x NBA All Star
All NBA Teams: 14x
4: Scottie Pippen
Scottie Pippen played second fiddle to Jordan, but Pippen was capable of much more.
Pippen is a pioneer of the "do it all" players. Today it is common for the elite players to be able to pass, score, rebound, and defend. Prior to Pippen there were players to do this obviously, but Pippen was able to showcase it on a championship level and at an elite level for a very long time. If we dropped Pippen into the league today, he would be a top tier player and make the transition smoothly.
His role in the Bulls dynasty can't get overlooked when discussing his place on the list. He always took the toughest assignment on defense, and was consistently the second scoring and playmaking option.
Career Averages: 16.1 points, 6.4 rebounds, 5.2 assists, 2.0 steals
Best Season: 22.0 points, 8.7 rebounds, 5.6 assists, 2.9 steals
Accolades:
MVP: 0
Championships: 6x
All Star Selections: 7x
All NBA Teams: 17x (combination of defensive teams and all NBA teams)
3: Kevin Durant
There is an argument to be made for Kevin Durant being the most complete scorer in league history. He can score at every level. At the rim, in the post, in the mid-range, from the outside, Durant is efficient and prolific from all spots on the floor.
Durant's 27.02 points per game ranks sixth all-time, with an absurd true shooting percentage of 61.3. In comparison, the best true shooting percentage amongst the top 10 scorers of all time is Lebron James at 58.6%. If Durant recovers from his achilles injury, he should find himself in the top half of that all time scoring list.
Durant's efficiency is unmatched by anyone in league history. Among the 15 players with a 30-plus career usage percentage, Durant is first in both true shooting percentage and effective field-goal percentage.
When on the biggest stage of them all, Durant thrives.
In his 15 career NBA Finals games, Durant averages 30.3 points, 7.7 rebounds, 4.5 assists, 1.5 blocks and 1.0 steals. His true shooting percentage in the Finals is 67.4%
Career Averages: 27.0 points, 7.1 rebounds, 4.1 assists, 1.1 steals, 1.1 blocks
Best Season: 32.0 points, 7.4 rebounds, 5.5 assists, 1.3 steals, 0.7 blocks
Accolades:
MVP: 1x league MVP, 2x Finals MVP
Championships: 2
All Star Selections: 10x
All NBA Teams: 10x
League Leader: 4x scoring champion
2: Larry Bird
There is a true debate to be had about Bird or KD as the 2nd best small forward of all time. I could have easily flipped these two and had no regrets. But with Bird's career completed and his impact on saving the league along with Magic, I got him here as the 2nd best SF of all time.
While Bird's prime and career was cut short due to back injuries, he put together a hell of a resume in 13 seasons.
Bird piled up 12 All-Star selections, 10 All-NBA selections, three All-Defensive selections, three NBA championships, three league MVPs and two Finals MVPs.
Bird's game was a combination of fundamentals with a dash of flare. He was never fast or a highflier, but Bird was a bucket getter. Standing 6'9″, Bird's over head shooting form made it nearly impossible to guard. When you throw in the fact that he could get buckets with both hands, Bird was a nightmare to guard.
And don't take his fundamental play style as him being soft. Bird constantly trashed talked with the best of them, and threw punches when needed. For some insight into Bird's trash talk, here is story told by Dennis Rodman from an interview with Complex.
"Bird made four straight baskets on Rodman and walked over to Pistons head coach Chuck Daly. 'Who's guarding me, Chuck? Is anyone guarding me? You better get someone on me or I'm gonna go for 60." Rodman continues "I would be all over him, trying to deny him the ball, and all Larry was doing was yelling at his teammates, 'I'm open! Hurry up before they notice nobody is guarding me."
If you think that is embarrassing, look up the game where Larry Bird used only his left hand to score 47 points on the Portland Trailblazers, just because he could.
Career Averages: 24.3 points, 10.0 rebounds, 6.3 assists, 1.7 steals, 0.8 blocks
Best Season: 29.9 points, 9.3 rebounds, 6.1 assists, 1.6 steals, 0.8 blocks
Accolades:
MVP: 3x League MVP, 2x Finals MVP
Championships: 3x
All NBA Teams: 10x
All Star Selections: 12x
Rookie of the Year
1: LeBron James
The combination of skill, power, accolades and longevity has James as the obvious choice for best small forward of all time. We all are aware of his accolades and accomplishments, but let's take a different approach to understanding his greatness.
Basketball Reference defines box plus-minus as "a box score estimate of the points per 100 possessions that a player contributed above a league-average player, translated to an average team."
In that metric, James(8.94) is second all-time, and less than a point behind Michael Jordan(9.22). The next closets Small Forward on the list is Larry Bird(6.89).
To more simplistic stats, James ranks third in career points, eighth in assists, and second in player efficiency rating.
His list of accolades are just icing on the cake. 16 All-Star selections, 15 All-NBA selections, six All-Defensive selections, four MVPs, three Finals MVPs, three championships and one scoring title.
Career Averages: 27.2 points, 7.4 rebounds, 7.2 assists, 1.6 steals, 0.8 blocks
Best Season? Take your pick
Accolades:
MVP: 4x League MVP, 3x Finals MVP
Championships: 3x
All Star Selections: 16x
All NBA Teams: 15x
League Leader: 1x Scoring Champion
In Case you Missed It:
Top 10 Shooting Guards of All-time