When you think 2000's NBA a hand full of NBA players come to mind. Shaq, Kobe, Lebron, Duncan, Garnett, and Dirk. The first decade of the 2000's produced a ton of great, but often unappreciated talents. So today we are going to take a look at 15 under appreciated NBA players from the era.
15. Peja Stojakovic
Peja who's career spanned from 1992-2011 is often overlooked as one of the leagues most sharp shooters. His best years came with the Sacramento Kings but everywhere he went he contributed.
In his best statistical season Peja averaged 24.2 points and 6.3 rebounds per game in 2003-04. That year, the 6-foot-9 Serbian hit 43.3 percent of his three-point attempts. Before calling it a career, Peja won a ring with the 2011 Dallas Mavericks.
14. Stephen Jackson
These days you can catch Stephen Jackson on the "All the Smoke" podcast with Matt Barnes. And that name is fitting as throughout the 2000's Jackson indeed wanted all the smoke. It is unfortunate that he is remembered for his role in the "Malice at the Palace" because he was a heck of a player. Tallying 13,000 point his career, and winning an ring with the Spurs in 2003, Jackson had a stretch were he was close to making the All-Star game.
His best statistical season came in 2008-09 with the Warriors. Jackson averaged 21 points, 5 rebounds, 1.5 steals, and 0.5 blocks that season and became a beloved member of the Warriors.
13. Michael Redd
Michael Redd is one of the few guys on this list that had a very short lived peak, but that peak was excellent. At his very best Redd averaged 26.7 points per game and made the all star game. Despite his numbers dropping off drastically in his final few season, Redd maintained a 19 point per game scorer for his career.
12. Rashard Lewis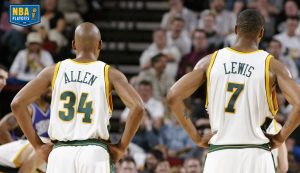 These days Rashard Lewis is tearing up Ice Cube's three-on-three league, the Big3. In his NBA days, Lewis was another lethal 3 point shooter. Standing 6'10" and spacing the floor, Lewis was ahead of his time as a stretch 4. If he were to play in this era he'd be an essential piece to any team.
His best statistical season came during the 2006-07 season with the Seattle Super Sonics where he averaged a career high 22.4 points per game on 40% shooting from 3.
In 2009, Lewis played a vital role in the Orlando Magic's run to the NBA Finals. Playing at the 4, he spaced the floor for Dwight Howard to dominate inside.
11. Jason Terry
Jason "The Jet" Terry played 19 NBA seasons and was a pretty good scorer throughout. He ranks 7th all-time in made 3 pointers. Terry scent the first 5 years of his career with the Atlanta Hawks where he was a 16 point per game scorer, but we best remember him for his time with the Dallas Mavericks.
With the Mavs, Terry played multiple roles, both starting and coming off the bench as the teams 6th man. Terry won the 6th man of the year award in 2008-09 and will always be remembered for his production in the 2011 NBA Finals victory over the Miami Heat.
He averaged over 17 a game in the 2011 playoffs, including 27 points in Game 6 of the Finals. The Mavs don't win that championship without Terry.
10. Kevin Martin
The owner of one of the most unconventional shooting mechanics, Martin is often overlooked as a great scorer. For 12 seasons, Martin was a consistent double-digit scorer with the threat of dropping 30 on any given night.
In his best season, Martin averaged 25 points on 41% shooting from 3 point territory. Because of his constant change in teams, everyone remembers Martin in a different uniform. But regardless of the threads he was wearing, you can't forget that jump shot. And you're lying if you say you never tried to mimic his form while on the court with your friends.
09. Andre Miller
Andre Miller might have been one of the best "slow paced" players the game has ever seen. For as slow as his paced seems, the game moved slower for Miller as he had an uncanny knack for racking up assists. In Cleveland in 2001-02 Miller averaged a league-best 10.9 assists per game to go along with his 16.5 points per game.
It is ultra rare for a player to have a game with 20 assists. Well Miller eclipsed 20 assists in a game not once but twice, with the high mark being 22 for a single game.
08 Richard Hamilton
You probably remember him for the face mask, but the former No. 7 overall pick was at one time one of the NBA's best two guards. Hamilton curled off of screens and knocked down jumpers with the best of them.
Hamilton, a three time all star, was apart of the Pistons championship teams and has his jersey retied by the team.
Hamilton is so high on this list for his contributions to the back to back finals appearances.
07. Shawn Marion
I know I keep saying these guys were ahead of their time, but Marion also fits that label. Shawn Marion was a do-it-all wing for the run-and-gun Phoenix Suns during the mid 2000's.  While we best remember Shawn Marion for his days playing alongside Steve Nash and Amar'e Stoudemire, his tenure with the Mavericks doesn't go unnoticed. In 2011, Marion won a championship with Dallas, and played a key role in the championship run.
The No. 9 overall pick in the 1999 draft, made four All-Star teams during his 16 year career. His bets statistical season came in 2005-06 with the Suns where he averaged 22 points and 9 rebounds per game.
06. Metta World Peace/ Ron Artest
Metta who began his career as Ron Artest, was drafted 16th overall out of St. Johns by the Chicago Bulls. He quickly became one of the elite defenders in the league, winning Defensive Player of the year in 2004. Metta made an all-defensive team four times in his career, but scoring is a part of his game nobody remembers.
In 2004-05, with Indiana, he averaged 24.6 points per game and shot 92 percent from the free throw line. He's another guy whose legacy took a hit because of the Malice at the Palace.
Artest/ World Peace would go on to become one of Kobe Bryant's most trusted teammates, knocking down the dagger in game 7 of the NBA finals against the Boston Celtics.
05. Antwan Jamison
A two time all-star, Jamison could fill whatever role his team needed. He was the league's Sixth Man of the Year in 2004. He scored more than 20,000 points in his career.
In his best statistical season, Jamison a third year player at the time for the Warriors, averaged 24 points, 9 rebounds and 2 assists. He went on to have 5 impressive seasons with the Washington Wizards before making his way to Cleveland to play with Lebron James in the later half of the decade.
04. Joe Johnson
Joe Johnson, one of the decades most clutch shot makers, never fully got credit for also being one of the decades best cure scores. In his early days, Johnson developed into quiet the offensive threat with the Phoenix Suns. But it wasn't until he found his way to Atlanta did Johnson reach the apex of his abilities. He averaged 25.0 points per game in the 2006-07 season and became a core piece to a nice run of playoff appearances with the Hawks.
His career averages have dropped as he hung on well past his prime, but there is no denying the pure scorer Johnson was during his prime.
03. Deron Williams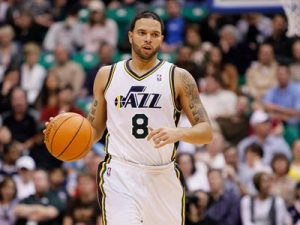 For young fans, you probably are not familiar with the narrative of Deron Williams being in the discussion for best pint guard in the league. Wether or not he ever held that tile is up to your discretion, but Williams was in that top tier for a stretch of time.
His tenure with Utah was peak Deron Williams. In his 6 seasons with Utah, Williams averaged 17 points and 9 assists, making the playoffs 4 straight years. His handles were filthy and could score and distributed with the best of them.
He had a good run with the Nets for awhile before his injuries and mother nature quickly caught up with him.
02. Chauncey Billups
Chauncey Billups some how flies under the radar when the topic of best guards of the decade gets discussed. Billups' career took off when he joined the Detroit Pitons in 2002. He became a 4 time all-star and NBA Finals MVP with Detroit and that is still selling him short.
Billups led the Pistons to back to back NBA Finals. In 2004 they defeated Shaq and Kobe's Lakers in 5 games, and then lost to the Spurs in 7 games in the following year's finals. Billups hit some clutch shots in those finals runs earning his nickname "Big Shot."
01. Vince Carter
Most people remember Vince Carter for his dunking ability. I mean it is hard not to after he put on the single best display of dunking in the 2000 Dunk Contest. But lets not let it overshadow how great of a basketball player Carter was throughout the 2000's.
Prime Carter could go bucket for bucket with the leagues best scorers. Don't believe me, go check out the battle between Carter and Allen Iverson where they exchanged 50 point games during the 2001 playoff series.
In his time with both Toronto and New Jersey, Carter was consistently dropping 25 points a night. After his stint with New Jersey, Carter began taking role player duties and it has allowed him to extend his playing career. The man has played in 4 different decades, so he did something right.
In Case You Missed Them
My top 10 NBA Players of All Time
What if LeBron never took his talents to South Beach