Last Summer, while on ESPN's 'The Jump', Vince Carter announced that he would retire at the conclusion of the 2019-20 NBA Season. We had a date marked on our calendars, April 15th in Atlanta. That was the day we would give Carter's his proper send off.
But with the COVID-19 pandemic hitting the US and suspending the NBA season for the foreseeable future, are we too late to give this future hall of famer his roses? Carter himself doesn't know for sure if he has suited up for the final time or not.
Such a weird night but I am truly thankful for each and every person during this 22yr journey.
If this is really it, I thank everyone for your love and support for all these years.
B E Z✌🏽

— Vince Carter (@mrvincecarter15) March 12, 2020
If his last game was any indication, we may have missed out chance. Here is a clip from the last Atlanta Hawks game prior to the suspension of play.
If that was indeed the final time we see Carter play in an NBA game, at least he got a moment with his team. But today in this post we are going to relive Carter's 22 year career and appreciate his greatness.
Toronto Raptors (1998-2004)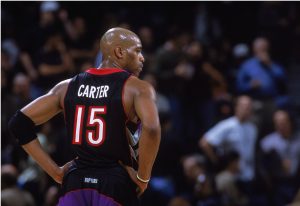 Carter was initially drafted by the Golden State Warriors with the fifth overall pick in the 1998 NBA draft. He was then traded to the Toronto Raptors for the fourth overall pick, Antawn Jamison, who was Carter's college teammate and good friend.
Toronto struggled in it's first three seasons in existence as a NBA franchise. But with the arrival of Carter, the fortune of the franchise would quickly change.
Carter won the rookie of the year award averaging 18.3 points per game. But the legend of Carter began as he constantly made Sports Center's Top 10 plays with ridiculous dunks. Soon after Carter was labeled "Air Canada" for his uncanny dunking ability.
Breakout 2000 Season
The year 2000 was a breakout year for both Carter and the Raptors. The Raptors made their first playoff appearance in franchise history thanks to Carter's 25.7 points per game (4th in the league). Quite good for a second year NBA player huh?
What everyone remembers about the 2000 NBA season is the Dunk Contest, or better known as the Vinsanity show. Carter executed the best performance we have ever seen from a dunk contest participant. No pops, no gimmicks, just Carter and his ability to throw down. What made it evermore impressive is that Carter didn't miss a single attempt, something we don't ever seen.
The dunk contest wasn't the only event Carter participated in during the 2000 All Star Weekend, as he was selected to his first all star game as a sophomore NBA player. The list of players to accomplish that feat is short.
In 2000-01, his third season, Carter averaged a career-high 27.6 points per game. That was good enough to earn him All-NBA Second Team, and starter for the 2001 NBA All-Star Game. Come playoff time, Carter led the Raptors to their first playoff series win, defeating the Knicks in 5 games. This set up an all-time semifinals series against Allen Iverson and the 76ers.
Carter scored 50 points in Game 3 and set an NBA playoff record for most three-point field goals made in one game. He and Iverson battled all series long with momentum swaying and and forth between he two teams. Carter ultimately missed a potential game-winning shot with 2.0 seconds remaining in Game 7. 
Down fall in Toronto
After signing a 6 year-$94 extension in August 2001, Carter began facing knee injuries that haunted him for the rest of his career. Despite missing the final 22 games of the 2002 season, Carter did make the history books on Dec 7th of that season.
Carter recorded 42 points, 15 rebounds, 6 assists and 5 steals against the Denver Nuggets. He joined Charles Barkley (1988) as just the second player ever to finish a game with 40 points, 15 rebounds, five steals and five assists.
In the 2002-03 season, Carter only managed to play in 43 games due to the offseason surgery. Carter did make the all star game but gave up his starting job for Michael Jordan who was playing in his final one.
The 2003-04 NBA season would be a healthy season for Carter as he played in 73 games for Toronto, but failed to make the playoffs. It would be his final full season in Toronto.
Tenure with the New Jersey Nets
Carter was acquired by the New Jersey Nets on December 17, 2004. He would go on to have five very productive seasons with the Nets. A huge reason for this was he remained relatively healthy for most of the tenure. He missed just 11 games in his four full seasons and helped lead the Nets to three straight playoff runs between 2005 and 2007.
The first season was downer because the trio of Kidd, Carter and Richard Jefferson never got to play together at full strength. But the next season was bright for the Nets.
In 2005-06, the Nets won the Atlantic Division title with 49 wins, good enough for the 3rd seed. A highlight from this season was Carter's memorable poster of Alonzo Mourning.
Carter helped lead the Nets to the second round of the playoffs before losing to the eventual NBA champions Miami Heat in five games. Carter averaged 29.6 points, 7.0 rebounds and 5.3 assists in the 11 playoff games.
2006-07 was another great year for Carter as he averaged over 25 points a game with a 21 PER. Carter had a handful of impressive games this season but one stands out.
On April 7, 2007 against the Washington Wizards. Carter and Kidd became the first teammates in over 18 years to record triple-doubles in the same game since the Chicago Bulls' Michael Jordan and Scottie Pippen. Carter finished with 46 points, a career-high 16 rebounds, and 10 assists. Kidd finished with 10 points, tied a career high with 16 rebounds, and tied a season high with 18 assists.
Down years in Jersey
In the 2007-08 season Carter was named captain of the Nets for the way he lead the team after Kidd was traded to the Dallas Mavericks.
In 2008-09, Carter and his new teammate Devin Harris were the top scoring backcourt in the league. They averaged a combined 42 points, but it wasn't enough for the nets to reach the playoffs.
2009 would be Carter's final season in New Jersey and it was a good one. He played in 80 games, averaging 20 points a night, but the Nets were headed towards a rebuild and Carter was heading towards a new venture.
Orlando Magic Tenure (2009-10)
On June 25, 2009, Carter was traded to the Orlando Magic. Orlando hoped Carter would provide center Dwight Howard with a perimeter scorer who can create his own shot—something the Magic had lacked when they were defeated in the 2009 NBA Finals by the Los Angeles Lakers.
Carter's best game of the season was on February 8, 2010. Carter scored a season-high 48 points including 34 in the second half.
Carter helped the Magic reach the Eastern Conference Finals, but it was as far as they would get. They where they were defeated by the Boston Celtics in 6 games. This is the only time Carter has ever played in a conference finals series in his 22 year career.
Phoenix Suns (2010-11)
On December 18, 2010, Carter was acquired by the Phoenix Suns in a six-player trade with the Magic. His tenure in Phoenix is nothing memorable. Carter appeared in 51 games with 41 starts while averaging 13.5 points while shooting 42%. However Carter did reach a milestone while wearing a Suns jersey.
On January 17, 2011, Carter recorded 29 points and 12 rebounds in a 129–121 win over the New York Knicks. He reached 20,000 career points during the game, becoming the 37th NBA player to reach the milestone.
The Suns waived Carter, sending him out to look for his next destination.
Dallas Mavericks (2011-14)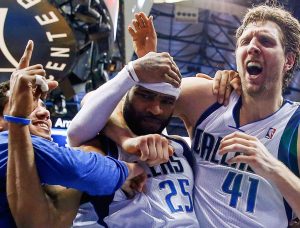 On December 12, 2011, Carter signed a three-year contract with the Dallas Mavericks.[85] This move reunited Carter with former Nets teammate Jason Kidd.
While we will always remember Carter as the high flyer he was in Toronto and New Jersey, he transformed his game in Dallas. Carter became a three point shooter with the Mavericks, and was the blueprint for the second half of his career.
In 2012 Carter hit 162 3-pointers tying his career high for 3s made in a season. Not bad for the greatest dunker of all time.
Another milestone Carter achieved in Dallas was surpassing Larry Bird for 29th on the all-time scoring list with 21,796 career points. But he wasn't done moving up the scoring list as he finished the season ranked 27th on the NBA's all-time scoring list with 22,223 career points.
In 2013-14, Carter took on the role of Mavericks 6th man with the departure of Jason Terry. Carter struggles with the role early on but soon thrived in it. In the first round of the playoffs against the 1 seed Spurs, Carter stepped up. Carter drilled the game-winning 3-pointer with no time remaining on the clock to give the eighth-seeded Mavericks a 109–108 win and a 2–1 series edge over the top-seeded Spurs. Unfortunately for Carter and the Mavs, the Spurs would win the series in 7 games.
Memphis Grizzlies (2014-17)
On July 12, 2014, Carter signed a multi-year deal with the Memphis Grizzlies. His time with the Grizzlies is when he began to fade into mentor phase of his career. But the hall of fame resume continued to build in his years in Memphis.
On December 17, 2014, Carter scored a season-high 18 points in a triple overtime win over the Spurs. Carter moved into 25th in all-time NBA scoring during the game, passing Robert Parish (23,334).
On February 24, 2016, with nine points scored against the Los Angeles Lakers, Carter passed Charles Barkley (23,757) for 24th in career points scored.
Carter was awarded with the Teammate of the Year Award for the 2015–16 season. The award recognizes the player deemed the best teammate based on selfless play, on- and off-court leadership as a mentor and role model to other NBA players, and commitment and dedication to team. The award epitomizes the second half of Carter's career.
On November 8th 2016, he scored 20 points against the Denver Nuggets and became the oldest player in the NBA to post a 20-point game since Michael Jordan scored 25 for the Wizards in April 2003, at age 40.
Carter joined Michael Jordan and Patrick Ewing as the only players in NBA history to put up 20 points and 5+ rebounds off the bench at the age of 39, with Carter being the oldest at 39 years and 287 days.
On February 1, in a game against the Denver Nuggets, Carter hit his 2,000th career three-pointer, making him only the fifth player to ever reach that mark. February 6th against San Antonio, Carter joined Karl Malone, Dikembe Mutombo, Kareem Abdul-Jabbar and Robert Parish as the only 40-year old players to record at least four blocks in a game.
On March 29 against the Indiana Pacers, Carter passed Ray Allen for 22nd on the NBA all-time scoring list.
Sacramento Kings (2017-18)
On July 10, 2017, Carter signed a one-year, $8 million contract with the Sacramento Kings. When Carter is giving his Hall of fame speech five years from now and brings up the Kings as a team he played for, we will all be like "I don't remember this."
But some cool feats were accomplished while wearing the Kings jersey. On January 28, 2018 against the San Antonio Spurs, Carter and Manu Ginóbili scored 21 and 15 points respectively. It was the first game in NBA history where two players over the age of 40 each scored at least 15 points.
Carter was also named the recipient of the NBPA's Backbone Award and Most Respected Award. Just another award to hang on the shelf and add to his career resume.
Atlanta Hawks (2018-2020)
In his debut for the Hawks on October 17, 2018, Carter started at forward and scored 12 points in a 126–107 loss to the New York Knicks, becoming the second oldest player in NBA history to start a season opener at 41 years and 264 days old.
On December 29, he scored a team-high 21 points in 111–108 win over the Cleveland Cavaliers. With this Carter became the oldest player in history to lead a team in scoring for a game. He also became the oldest player in NBA history to score 20+ points at 41 years and 337 days old, breaking Kareem Abdul-Jabbar's record by just 6 days.
On February 7, 2019, against the Raptors, Carter passed Jerry West for 21st on the NBA's all-time scoring list.
Carter logged the second-most minutes for the Hawks in a 168–161 quadruple-overtime loss to the Chicago Bulls on March 1, 2019. At 42 years old, Carter became the oldest player in NBA history to play at least 45 minutes in a game.
On March 4, he scored 21 points, all on 3-pointers, in a loss to the Miami Heat. With that game alone, Carter surpassed Reggie Miller for 20th on the all-time scoring list. He also passed Jamal Crawford for sixth on the all-time 3-point field goals made list. Carter broke his own record of being the oldest player to score 20 points in a game at 42 years old.
Final Season
Carter played his first game on October 24, 2019, making his 22nd season official. Four of Carter's teammates were born after he was drafted in 1998.
On December 10, 2019, he became the fifth player in NBA history to play at least 1,500 games.
January 4th, 2020, Carter became the only player in NBA history to have played in four different decades. On January 22, 2020, Carter moved past Alex English for 19th on the NBA all-time scoring list.
On January 31, 2020, Carter moved up to 3rd place in all-time games played with 1,523.
Career Totals
25,728 Points
1,541 games played
4,714 assists
2,290 3 pointers made
1,530 steals
888 blocks
Incase you missed them
Unappreciated players of the 2000's